I spent a large part of my weekend in the saddle with my friend Emma as part of our training for the London to Brighton bike ride that we are doing in just over 2 months.
Saturday involved a fairly gentle 15 mile ride along some of the Rea Valley Route and stopped at the half way point for a cup of coffee and some time to warm up by the wood burner in the cafe.
Sunday was a bit more of a challenge as we had decided to cycle from Emma's house in South Birmingham to Coventry (arriving in time for lunch) According to the app we had, it found a route that was 22 miles long and took us via Solihull/Shirley and then joined up with the same route we had ridden as part of the Starley Sportive that we did in February.
We managed it in 3.5 hours which I was pretty impressed with. Since my last ride, I've auired a pair of cycling gloves and they really helped a lot with reducing the pain in the palms of my hands. The next item on my to ppurchase list will be a wind proof jacket because I ended up cycling with a sports bra, wicking t-shirt and standard hoodie on yesterday and by the end of the ride I was really feeling the cold in my chest and it took me a while to warm up.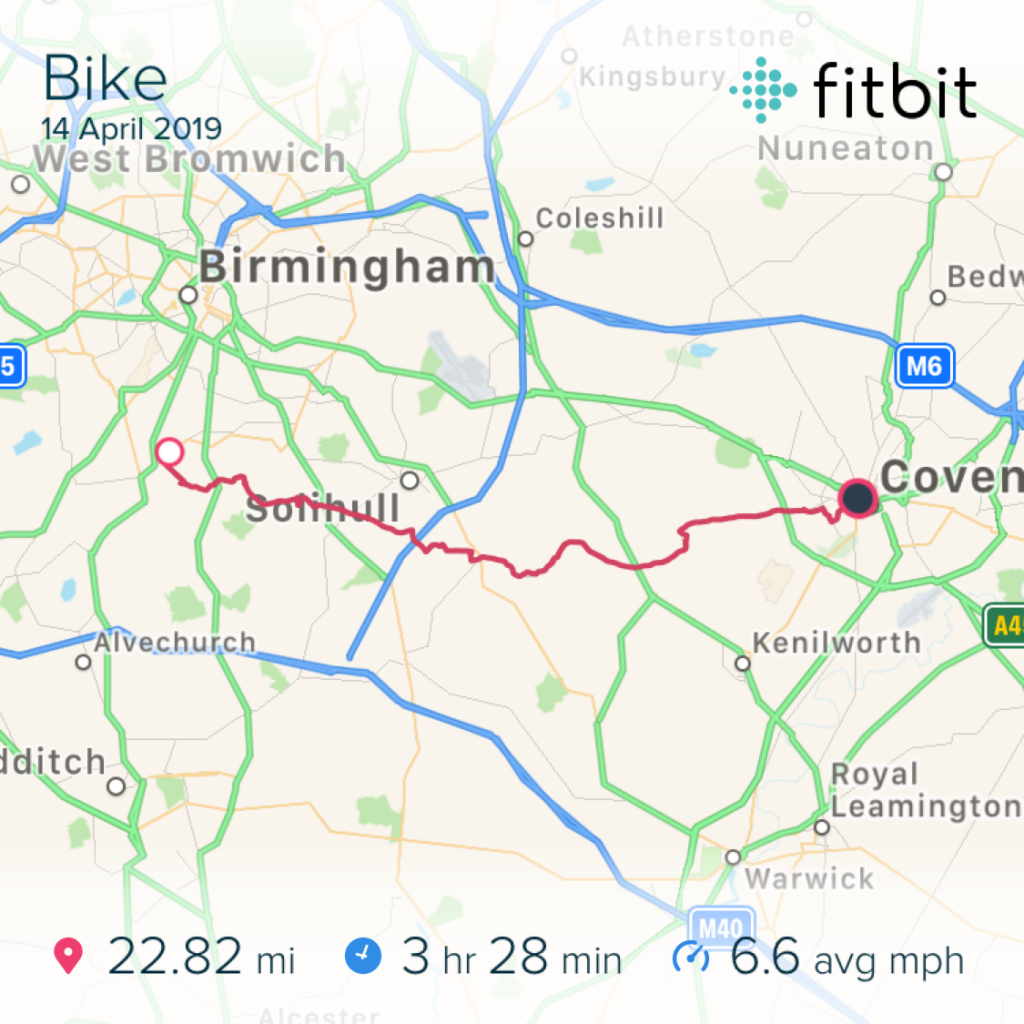 (Emma has a super fancy fitbit that tracked our ride/time and various other things)
The hills then – we tackled a few on both days with varying degrees of success. I did feel much better about them than I did on the Sportive though – during that, I just felt utterly defeated by them before I even started. I've been reading a bit about the London to Brighton route. This blog in particular has been useful and over the weekend I tried out a few of the techniques for hills that they mentioned. The most helpful for me was just to keep setting myself micro goals – like aiming for a spot a few meters ahead, then picking another as soon as I reaching it and just repeating this until I hit the peak and then I would either cruise down the incline on the other side (if there was one) or stop, take in the scenery and have a few big swigs of water. I still feel like I have a lot of work to do in the next few months around fitness, speed and my recovery times when I hit a hard patch but being able to do better on the hills this time did make me feel a bit better.
When we got back to Coventry we headed straight for the Golden Cross to try out their new vegan menu as our post cycle reward. Here are the obligatory "what I ate" pictures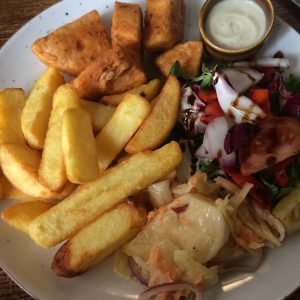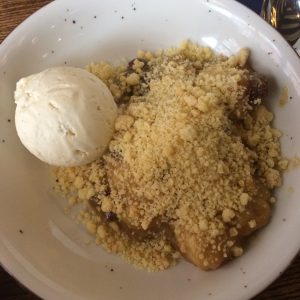 I had a vegan southern fried chicken (made from jackfruit) with the most delicious chunky chips and coleslaw, followed by banana, rum and raisin crumble with ice cream.
So what did I learn on these rides?
1. I love cycling on canal tow paths – more of this on my upcoming training please
2. To a certain extent at least – hills are a state of mind.
3. You shouldn't need to have ALL the fancy kit to be a cyclist but some things really do help such as padded shorts and padded gloves
4. Water has never tasted so good as when it's been glugged down at the top of a hill climb