This week I got to see Sleater-Kinney twice in 2 different cities (a first for me as I've seen them twice in a week in London before) I've been excited about these gigs since they were announced as I didn't know if I would ever get to see them play together again. They had been on hiatus since 2006 and I think with all the other projects they have been involved with since, I didn't expect a new album let alone a tour. To get both was wonderful and has been something I've been looking forward to when I've been struggling.
They were probably the first band that felt properly like "mine". I read an interview with Corin Tucker in the zine Funky Spunk when I was in 6th Form and ordered their album "dig me out" from the Virgin Megastore in Colchester. I remember it took weeks to arrive and cost me about £17. I listened to it over and over but didn't know anyone else who liked them. When I went to university I gradually managed to pick up the rest of their album that they had out at that time. The majority of people I hung out with at uni were into metal and I never really went to clubs that played the music I loved. It was only when I started meeting people through zines and livejournal that I found other people who liked this band. I saw them a number of times in London when I was at uni and the years after and was heartbroken when I found out they had gone on hiatus. Still, there was 7 albums of theirs to listen to at that time and I soothed myself with that.
Now I'm in my 30s, I know a more people who also love them so not only were these gigs great for seeing the band, it also meant I got to hang out with some excellent people that I don't always get to see much of. Joe wrote down the set lists so as far as I know the following is accurate.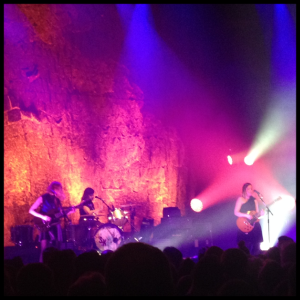 London set list:
Price tag – oh! – fangless – end of you – what's mine is yours – one beat – bury our friends – surface envy – get up – no cities – rollercoaster – turn it on – no anthems – new wave – words and guitar – sympathy – entertain – jumpers encore: gimme love – youth decay – let's call it love – modern girl – dig me out
Hearing Sympathy live was probably the highlight for me – someone uploaded a live video here. The part Corin sings at 2.52 felt like it was yanking my heart from my chest and hurling it 20 foot in the air.
Manchester set list:
Price tag – fangless – oh – get up – surface envy – ironclad – what's mine is yours – new wave – one beat – no cities to love – start together – light rail coyote – no anthems – words and guitar – bury our friends – one more hour – entertain – jumpers encore: gimme love – I wanna be your Joey Ramone – let's call it love again – modern girl – dig me out
The second night was probably more fun for me because there were more people I knew there but the venue felt a lot smaller and even fairly near the back it was crowded and there wasn't enough room to dance. The band seemed more relaxed in Manchester too and a little more chatty on stage.
Both gigs were amazing and re-energized and inspired me a lot. It was interesting to watch them play 9 years after the previous time I would have seen them and realise how relevant and important they still feel to my life.
Other than the gigs, it was really nice to spend some time away for home hanging out with Joe and various other friends. In London on Tuesday morning we spent some time capturing munzees, browsing Housmans and picking up a few bits from Vx.
Despite having visited London a lot more due to growing up in Essex, Manchester is exciting me a lot more lately. I visited on my own in December and really enjoyed mooching around the Northern Quarter. This time I stayed in Hatters hostel with Pippa and Joe. Our room was basic but comfy and situated right opposite Fred Aldous which is an amazing arts and craft shop.
On Wednesday we spent a fair amount of time browsing this shop as well as getting our photos taken in one of their vintage booths. I also picked up a few books in the Oxfam bookshops, Magma and Forbidden Planet.
I really love all the graffiti around the Northern Quarter. There were lots of quotes set into the pavements too like in the picture above. It makes the whole area feel really interesting and alive.
As discussed with Ingrid the other night, one of the best things about visiting new places is getting to eat loads of new vegan food. I definitely got to do that on this trip. Here's a little run down of some of the best places I ate.
Favorite places that I ate and drank
(in no real order)
1. Inspiral (London) – – mostly raw and all vegan. We had dinner here before the London gig. I've had a burger which instead of a bun had a savory scone which was tasty but also felt very healthy. They also had some lovely cherry beer.
2. Look Mum, no hands (London) – This bicycle-centric cafe was on the same road as our hotel in London so we stopped here for coffee and time wasting while waiting for our room to be ready. There was a lot of things to look at inside including large tissue paper pompoms hanging from the ceiling. They also did a vegan brownie (which we tried) and some interesting looking food (that we didn't as we already had dinner plans)
3. Oklahoma (Manchester) – We had breakfast here on WEdnesday morning. I had sourdough toast with vegan butter and black cherry jam and an excellent chocolate and peant butter brownie. It's part of a cute craft/homewares shop too so we had a look round there after we'd eaten.
4. V Revolution (Manchester) – I ate here last time I was in Manchester and dragged Pippa and Joe back with me this time. I got a vegan slaw dog with a melon lemonade. I also picked up some spacebars and vegan marshmallows to ease going back to work the next day.
5. Tampopo (Manchester) – We ate here just before the Manchester gig. I had some excellent veggie tempura followed by noodles. There wasn't a ton of vegan options but there was enough so that I didn't feel like it was an afterthought.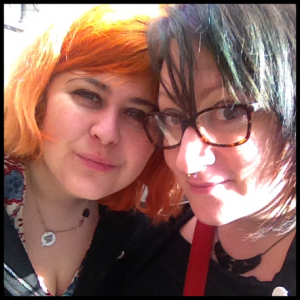 The above pic is me and my friend Pippa. It was so lovely to hang out with her and so many other friends who mean so much to me. Looking at this picture, I'm really struck by how happy and carefree I look. I hope I can bottles this feeling.
"No one here is taking notice, no outline will ever hold us. It's not a new wave, it's just you and me"
– a new wave, sleater-kinney