Life is…life, I guess. House hunting is slow and frustrating. It's hard to imagine what you can have when all you have been used to is renting and making do with what you can afford, where will allow pets and where you've managed to get your application in first. Looking for somewhere to buy seems more exciting in some senses especially as it's all so new but for the same reason, I am also feeling a bit overwhelmed and confused about it all.
I've treated myself to a Spotify paid account and that's helping somewhat. I've spent most of the week listening to Tegan & Sara on repeat and discovering that I enjoy Sainthood much more than I thought I did when it came out. I've managed to hook it up to my very neglected last.fm account so you can see what I've been listening to here should you want to do that for some reason.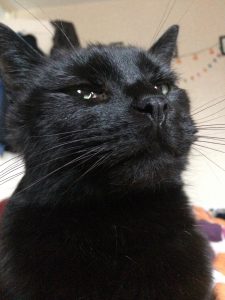 Here's a picture of Cabaret because too much text in a row is boring
I'm trying to get better at managing my money. I've got a busy weekend coming up as I'm seeing Josie Long on Friday evening and then Tegan & Sara on Saturday – both in Birmingham. I need money for the train and food and I'm squirrelling away pounds in different accounts for both.
I feel like I am weighing up how much value I get from things. I had previously deemed a Spotify membership as too much of a luxury until I a) realised I could get a student rate and b) heard the same 1 or 2 adverts too many times in a row and wanted to scream. We've had an office move and being slightly closer to people is a bit of a struggle in terms of overheard noises so I've been relying on listening to music more to help me concentrate. I guess I'm only justifying this to myself at the end of the day.
This morning I also listening to the latest episode of Pomo Pain podcast which is an excellent podcast by my friend Ingrid. If you haven't heard it, then you should listen. It always helps me to make sense of my own thoughts and gives me a different but helpful perspective on things.