I've just got back from a short break in Luxembourg city with J. We originally planned to fly from Birmingham with FlyBe but they pushed the flight to Manchester instead which would have been impossible for us to get to at the right time so we re-booked to fly from London City Airport instead with LuxAir.

Day 1 – travelling there and wandering around the city
Once we'd landed in Luxembourg it was pretty easy to get to the city from the airport. You can catch the 16 bus outside the terminal and it will cost you €2 to get to Luxembourg city. In fact, the buses are one of the best value for money parts of the country. A single journey is €2 or you can get an all day ticket for €4 which we used for our day trips. You can pretty much travel anywhere in the country by bus or train for this cost.
We did have another slight hiccup as I got on the bus with my case and settled in my seat, only for the bus to pull away and for me to see Joe standing outside on the platform still. Thankfully, it was easy enough for him to get the next bus and we met up by the main station (Gare) which also seemed to be the bus station too. Even the train station had some impressive stained glass in it.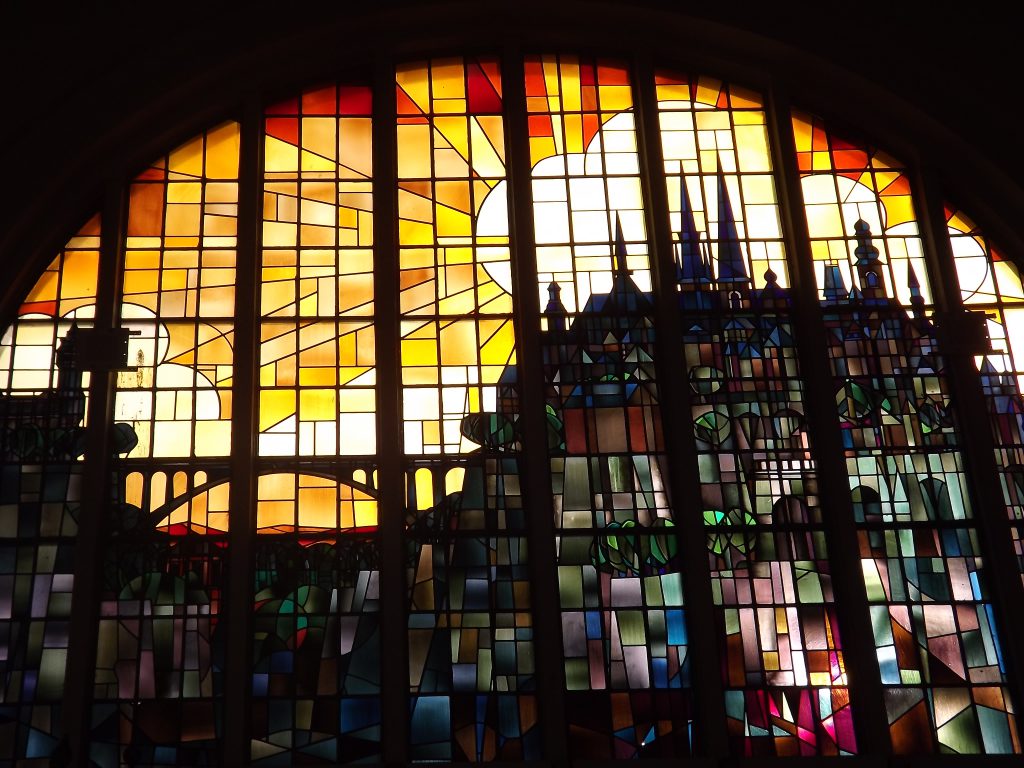 Our hotel (Ibis Styles) was right by the station – the rooms were small but really clean and comfortable. A continental breakfast was provided each morning including a place to squeeze your own fresh orange juice (I am easily pleased). We got checked it, I used the wifi to download the map of the whole of Luxembourg into GoogleMaps (Seriously – this is one of my main travel tips when going somewhere – download an offline map for the city/country you are visiting and you can use it to navigate even without wifi/data connection – If you want to know how to do that – click here)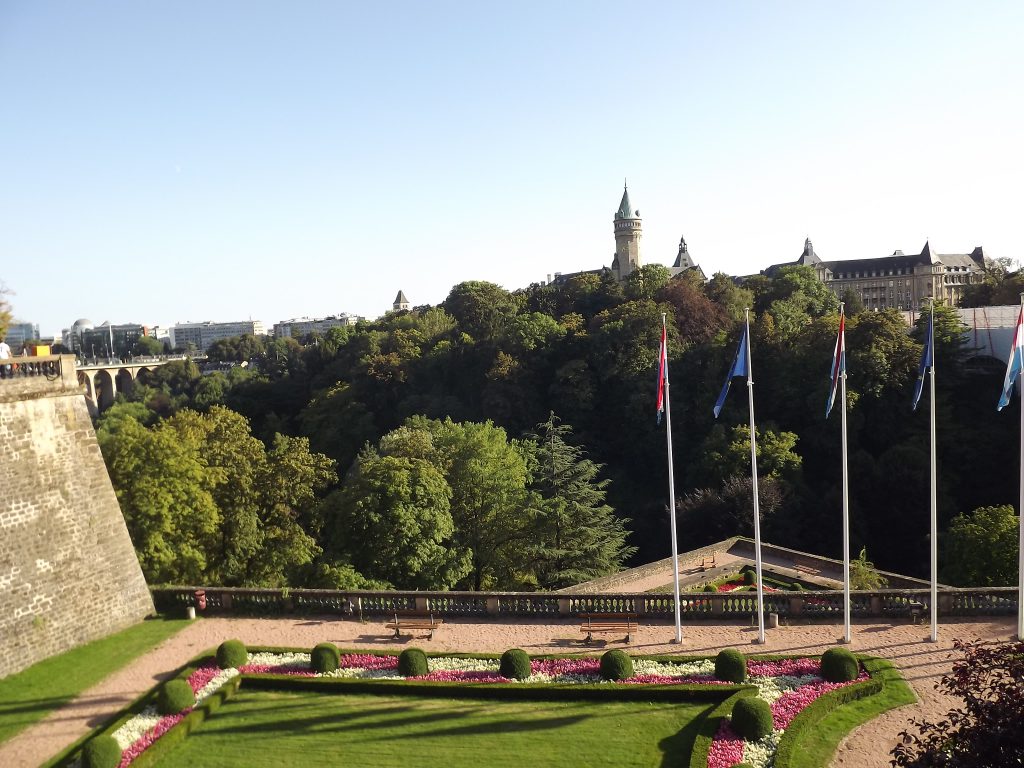 We went off for a wander around the city. We didn't really have much of a set agenda but just kept wandering and looking for places that looked interesting. We saw some pretty amazing views and eventually ended up by the Bock Casemates. We looked around the Casemates and took lots of photos of the city in the late afternoon sunshine.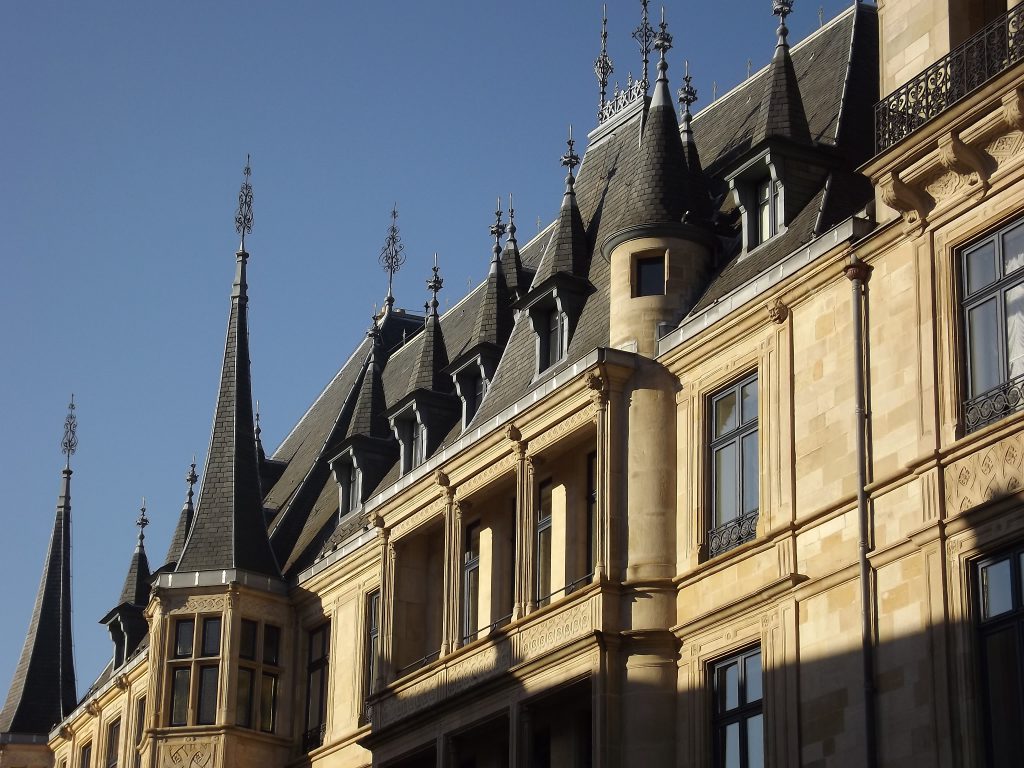 We carried on walking down the hill, away from the centre and found ourselves in an area called Les Rives de Clausen – which is where an old industrial area full of factories has been converted in restaurants and bars. It was pretty trendy and I felt a little out of place wandering around in the same clothes I'd been travelling it but it was a good place to have a drink and unwind before walking back up the hill (urgh!) into the city. We did something like 19,000 steps on our first day so by the time we go back to our hotel, I was truly ready to sleep.
Day 2 – Vianden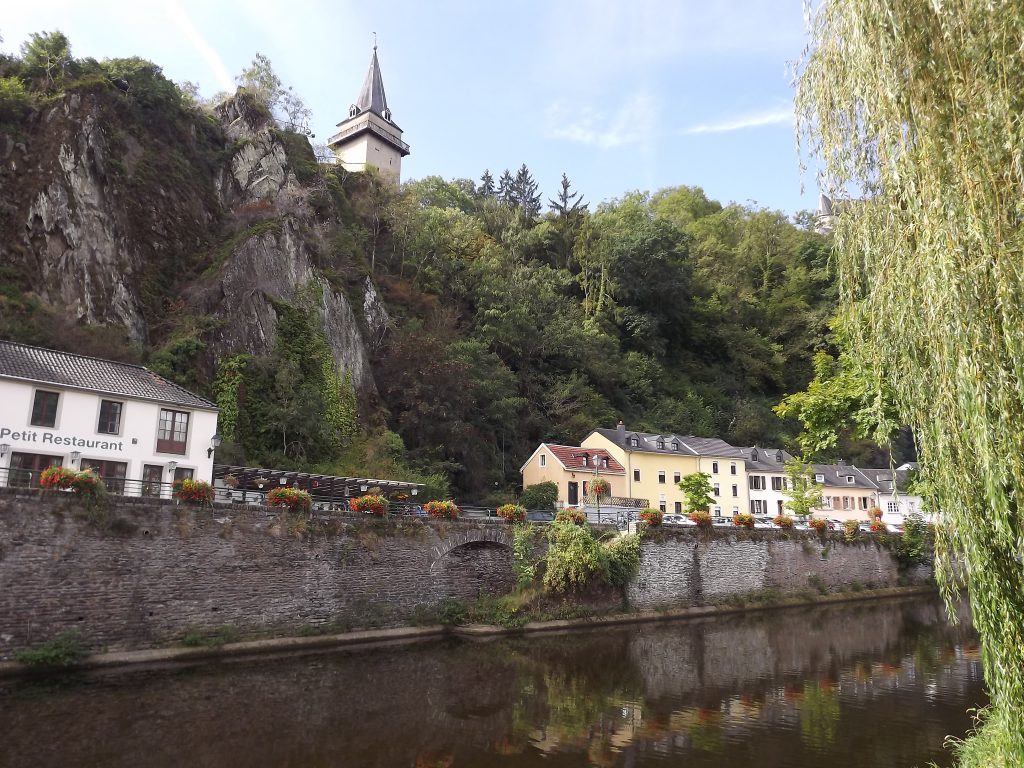 For our first full day in Luxembourg, we headed to the town of Vianden which is right up by the German border. It took us around an hour to get there by bus (we had to change at Ettelbruck – you usually get the train to there and then get on the 570 bus to Vianden but there was a rail replacement bus instead)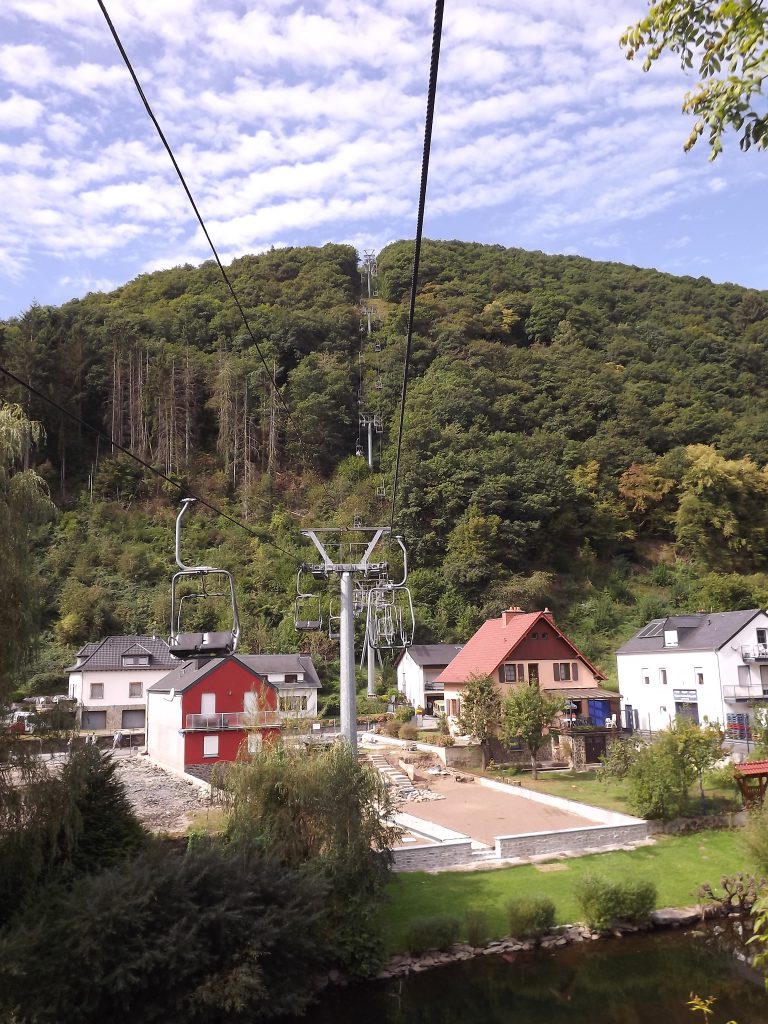 Our first stop after getting our bearings was to take the chairlift up a big mountain so we could eat chips and admire the view at the top. From here, we could see Vianden Castle which was our next stop.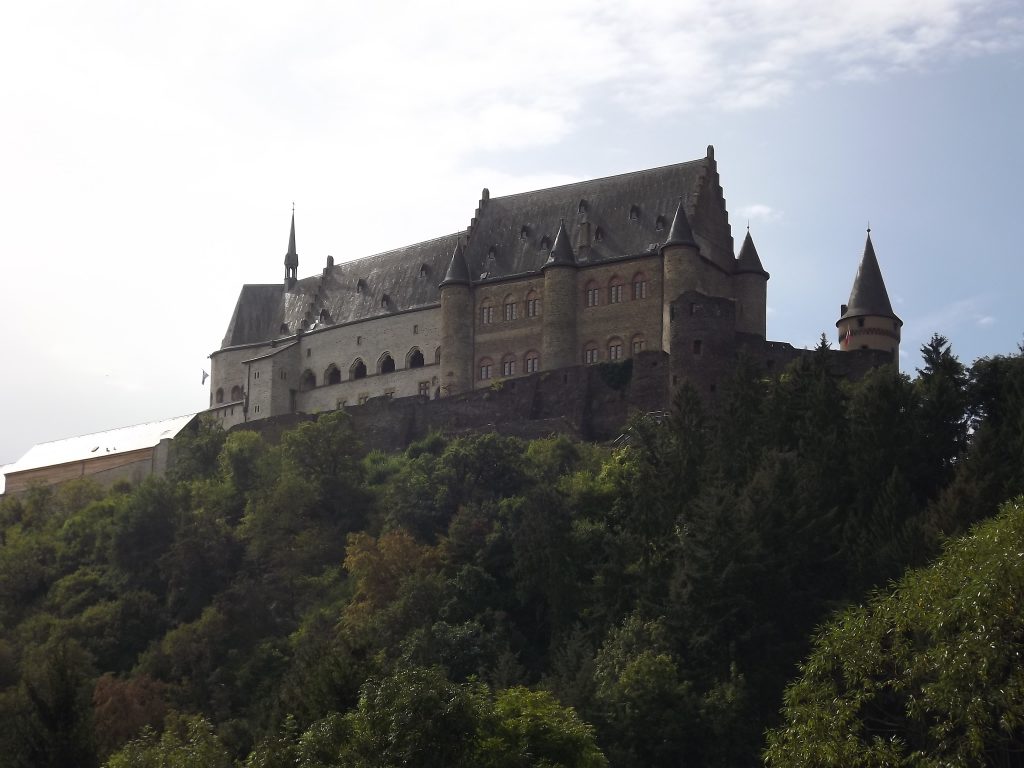 The castle was originally build in the 11th century but has been added to and altered over time. It's pretty hard to miss it when you arrive in the town but once you start climbing up the steep road to it, it vanishes from view and you start to wonder where the hell you are going. It may mean when you finally see it, you have to take a picture like this…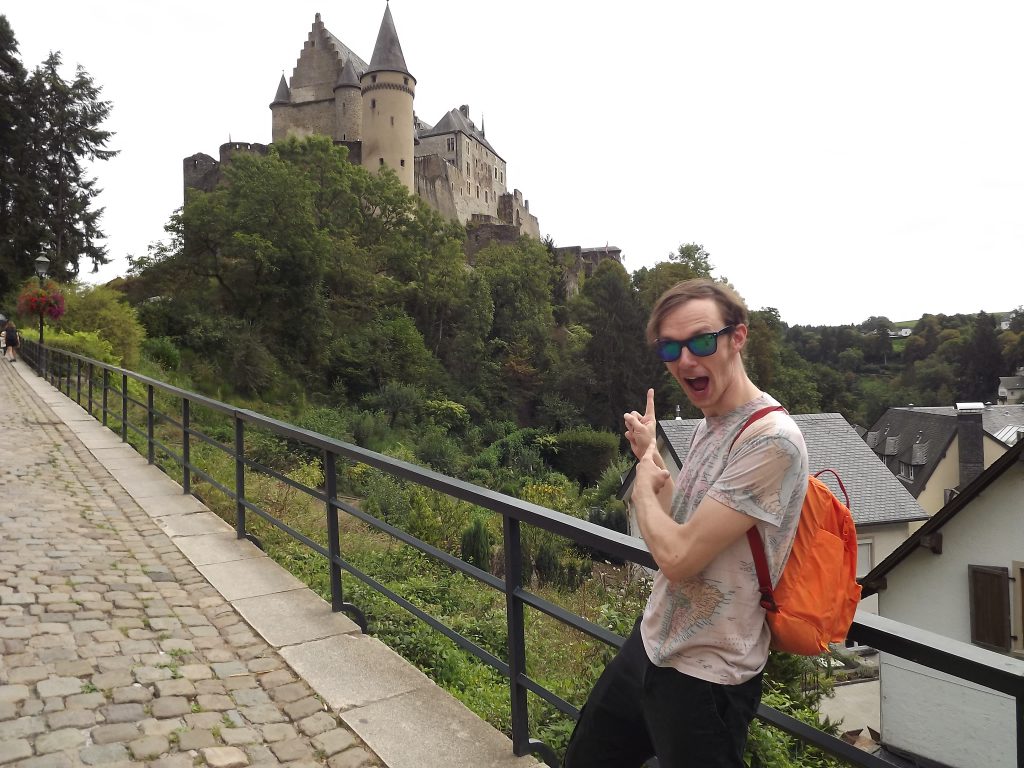 We actually only ended up having a fairly quick look around as we didn't want to miss the final bus back to the city. It was a really beautiful town and well worth the visit.
Day 3 – Mondorf Thermal Spa and Am Tunnel Gallery
As the other two days had featured a lot of walking, we headed for a more relaxing day for our final full day. We got the bus to the town of Mondorf in order to visit the thermal spa based there. You can take the 177 or 175 bus from the Gare to Mondorf and get off at the stop by Casino 2000 (which is the only casino in Luxembourg). Once you get off, you can walk through the park opposite the casino to the spa. If you see the fountain below, you are in the right place!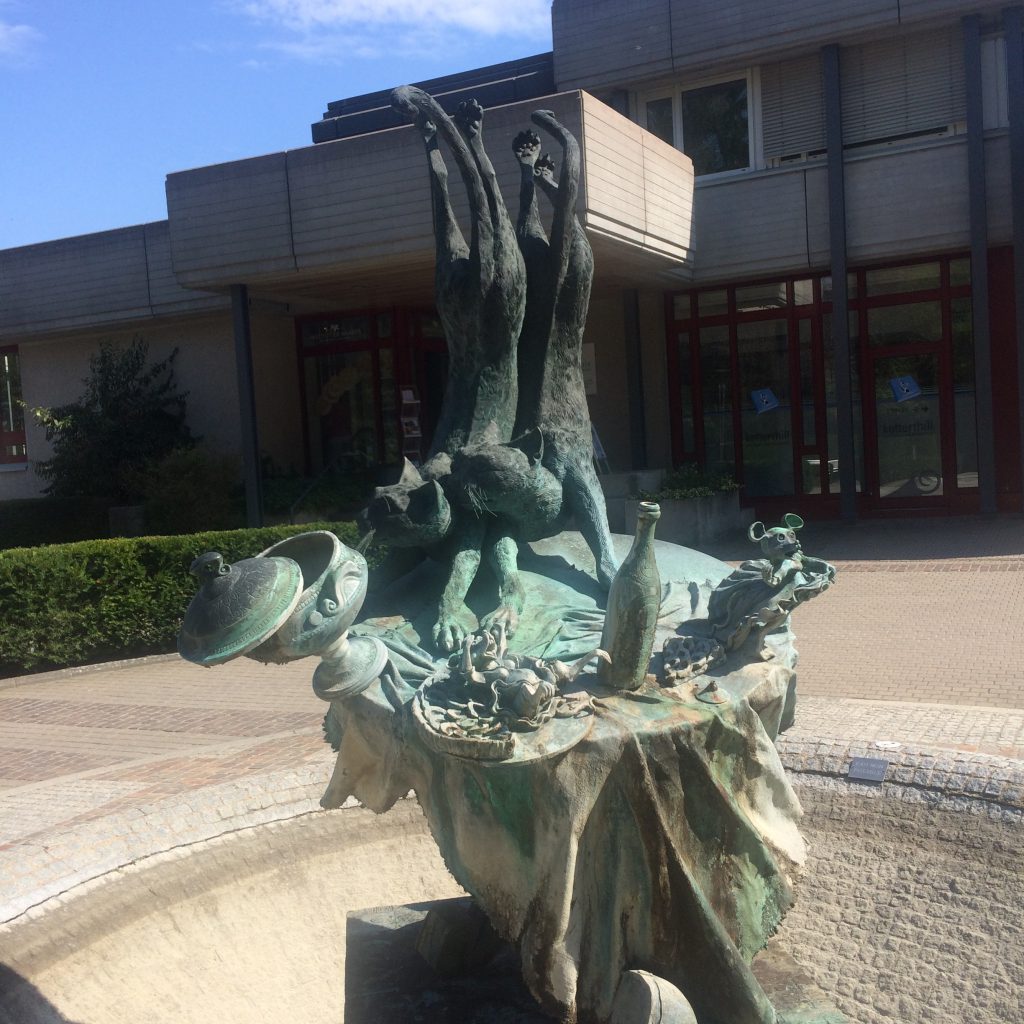 I recommend hiring a towel from the sports shop before you go in. It's €2.20 and the towels are HUGE. It was easily large enough to wrap around me (and I'm a chubby size 20-22) you can also get robes for around €4 as well. It was pretty hard to find the prices for the spa on the website – for 3 hours, it cost us €24 each and seems to be an extra €2 more if you go on a weekend. There were also options for 2 hours sessions (€18) and 4 hours (€30) and the whole day pass is £37.50.
Once in the spa, there is a main outdoor pool and an outdoor Jacuzzi. There is a thermal pool and a women's only area that I didn't venture into. In the outside area, there was a lot of sun loungers and it didn't seem too busy (however, we were there on a week day). There are also a number of saunas that vary in temperature from 65°C to 95°.
A note of warning – all of the saunas at the spa require you to ditch your swimsuits and go in naked! (you can wrap yourself in a towel though – and in fact, you will be required to sit on a towel in there)
Just before we finished our time at the spa, we went into the largest sauna for what was advertised as a white chocolate session. One of the staff came in and kept putting different scented water onto the coals so the heat increased. He then waved some fans and flags around to waft the hot air. Half way through, we had to go outside and quickly shower, then were given a handful of white chocolate scented scrub to cover ourselves with. Once we'd basted ourselves up as if we were about to get cooked – we went back in the sauna for more of the same. I really thought that towards the end I was going to have to leave before it finished because it was the hottest I can ever recall being in my life, but when we got let out and showered off again, I actually felt really good for having done it.
When we got back to Luxembourg city, we decided to go to an art gallery before going out for dinner in the evening.Am Tunnel is an art gallery that is situated below the ground in tunnels that were originally used to connect a number of banks together. There is a permanent collection of photographs by Edward Steichen and while we were there, we also saw another photography based exhibition by Dimitri Soulas.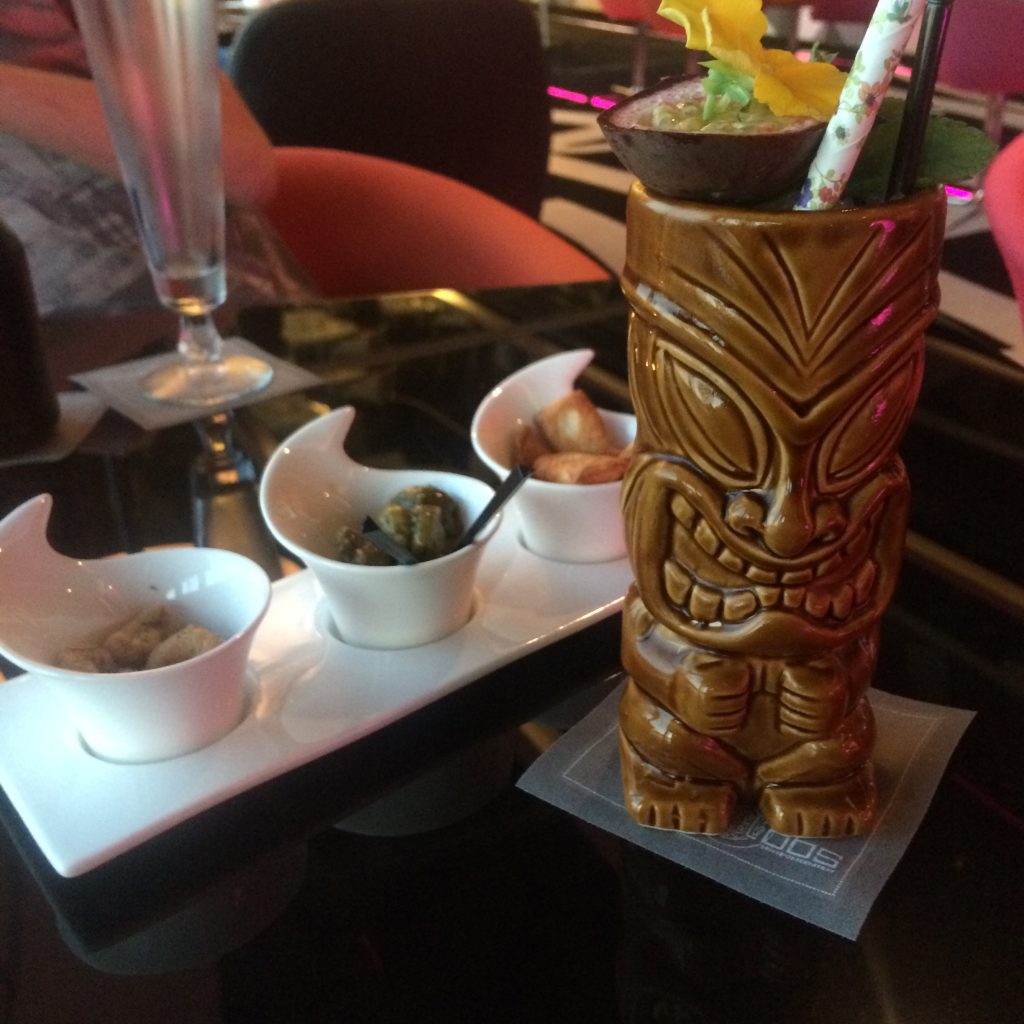 Finally, we fished our break by having a drink on our final night in the Coco Mango bar which is on the top floor of the Sofitel hotel. I had a tasty but expensive cocktail while watching the sunset over the city ♥
Some advice for vegan travellers – there are a few vegan friendly places to eat in Luxembourg city BUT we didn't get a chance to try many as one was fully booked by the time we found it and many others were closed on Saturday night/Sunday all day. If I visited the city again I would go mid-week.
On our first night we ended up getting a very good avocado salad bagel from Coffee Fellows which was marked as vegan on the menu. There was also another vegan bagel and they had soya milk. I had a really nice banana and chocolate frappe made with soya milk. The other branch (near the Gare) we went to wasn't quite as good because their blender had broken so they had very few cold drinks on offer and they also only had 2 types of bagels in stock (one of which had cheese on top)
We ate dinner on our last night at Cafe Nirvana which was good value and the staff were very friendly but in all honestly the food was only so so. Another night we ate at Sushi Lovers which was pretty good but expensive (our bill for 2 people came to €60) we did get to order by ipad though which was pretty good cos we had time to study the menu and allergies for all dishes were clearly marked). There was a pretty good choice on the menu but it did seem they had saved all their most experimental ideas for the dishes that featured fish or other seafood.